DKM History
23-12-2020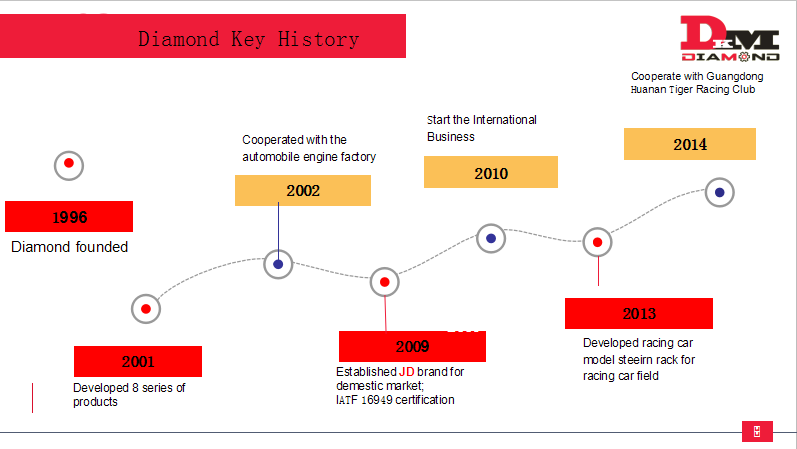 1996
Jiashun machinery factory was established by Mr. DengHongquan. There were only 10 employees and 5 sets equipment.
After absorbing the Japanese Toyota Power steering rack technology, successfully independently developed and produced power steering rack as the first domestic enterprise.
1997
Mainly for the domestic import right direction of the car to change left direction of the car market. After the market gradually reduced, began to enter the domestic automotive aftermarket products sales. For example: The Golden Cup sea lions, southeast cars, Xiali car installation market and after-sale repair market.
1998
The establishment of a new plant in Nanhai Guanyao, the establishment of Foshan Nanhai Guanyao Queheng power Steering Gear Co., Ltd. 50 employees, 50 units.
2000
At the request of Beijing Automobile Manufacturing Co., Ltd., the company introduced the steering system of Japanese Toyota Proda land cruiser 3400 model and exclusive matching in 2001.
2001
At the request of Tianjin Xiali Co., Ltd. with its production of TJ7136 Xiali 2000 models, TJ7131U Gold Xiali exclusive supporting steering system
The company has developed 8 series of products: rack-and-pinion power steering gear, recirculating ball power steering gear, reducer, steering shaft, steering tubing, steering oil kettle, ball-head tie rod, oil pump bracket attachment.
2002
Queheng Power Steering Co., Ltd. 2002 to expand production and operation, with the car factory supporting cooperation.
Passed ISO9001: 2000 international quality standard certification.

2009
Queheng Power Steering Co., Ltd. is committed to automotive aftermarket accessories market investment, the same year September, the establishment of a new company: Foshan Dishing Auto Parts Co., Ltd., vigorously promote the JD brand's domestic market share.
Absorb advanced technology at home and abroad, strictly implement IATF1649 quality management system, implement modern production.
2010
Through participating in Shanghai Frankfurt International Parts Fair and Alibaba network to expand overseas business, products are exported to the United States, Ukraine, Russia, Australia, Southeast Asia, the Middle East Dubai and other countries
2013
Company and Racing team cooperation, research and development of the country's first competitive car directional machine system, the replacement of similar foreign products, to fill the domestic gap.
2014
The company developed the second set of racing motor and Guangdong South China Tiger Racing Club signed a long-term cooperation agreement, Guangdong South China Tigers all racing car installation and use of Dishing Athletics direction machine to participate in the domestic cross-country competition. Establish certain market influence and competitiveness in the market segment of automobile sports.
2017
Foshan Diamond Auto Parts Co., Ltd. was upgraded to Guangdong Diamond Auto Parts Co., Ltd. which was awarded the title of Guangdong High-tech Enterprise at the same year.